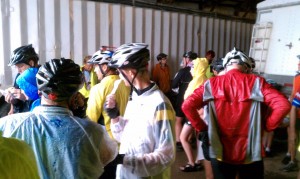 Day 6 was one of the most interesting.  We knew it was going to rain, it was just a question of when and how much.  The goal was to get out early and I hit the road at 6:00, pedaled hard and did over 20 miles before it started to sprinkle.  Today I learned a valuable lesson.  Don't get wet if there is a chance you will get chilled.  When it started to sprinkle I put on a light jacket that I thought was waterproof.  First mistake, it was not so I was getting wet.  I pulled off under some pine trees and switched to my rain coat and did less than a mile before it really started raining and included lightening.  Luckily this was at a vendor stop at a crossroads called Shady Grove.  Two houses and a big metal building.  I bought the biggest pork chop I have ever had, from the Pork Chop man, and headed into the building for shelter.  Whoa, there was nearly 100 of us in there.  I was there for nearly three hours and getting colder.  I finally realized my raincoat was keeping in all the moisture.  It was hard to force myself to take the coat off, but once I did my wicking bike shirt dried quickly.
The experience in the dark building, with it's dirt floor, full of huge farm equipment, crowded with people eating pork chops with their hands, well, it will be a memory I will carry for a long time.  And cherish, because despite the bad weather, pockets of people were having fun.  A few adults broke out in song, some older teenagers were doing ring around the rosie, another group played a made up game.  I also met several people and as bikers we always have something to talk about.
I'm learning to take in the towns and appreciate what each has to offer.  Today I stopped in the last pass through town for a much needed rest, listened to the live music and tried to dry out my sandals, socks and my feet.