Sometime in the last few weeks I passed the 5000 mile mark with my recumbent bike.  I started recording my stats shortly after buying my used Burley recumbent and I know my recordings hit 5000 this weekend, but the exact date and mile was sometime previous.
Wow, who would have thought this adventure would lead me this far?  Certainly not me, that's for sure.  But it has been a joyous ride, full of visual delights, some hardships, some pain, but the new friends I've met along the way make up for all the hardships.  Below is a picture of me on my Burely with my most dedicated riding buddy (a troll nicknamed Ziggy Stardust – Google it if you are under 50 years old and don't get the reference).
The journey also continues in many other ways.  In the last six months I built the first completed prototype of a recumbent tadpole trike.  I say "first" and "completed" as there were several iterations of it before it got to this point and now that it is almost done, I'm ready to design another one from what I learned on the first.  To coin a phrase from Lance Armstrong (who will be on RAGBRAI this year), it's not about the ride.  For me, with the trike, it's all about the experience, the journey of building it long before I rode it out of the driveway.  I have never had a project like this where I lived and breathed it day after day and so proud of my accomplishment.  I wish my dad was still alive to see it, he really would have appreciated the intricacy of the design and the dedication it took to design and finish it.  Below is an almost finished picture of it, when I took it out on it's maiden voyage last week.  After RAGBRAI, when I have more time to finish it, I'll post more pictures of the trike so you can see all the details.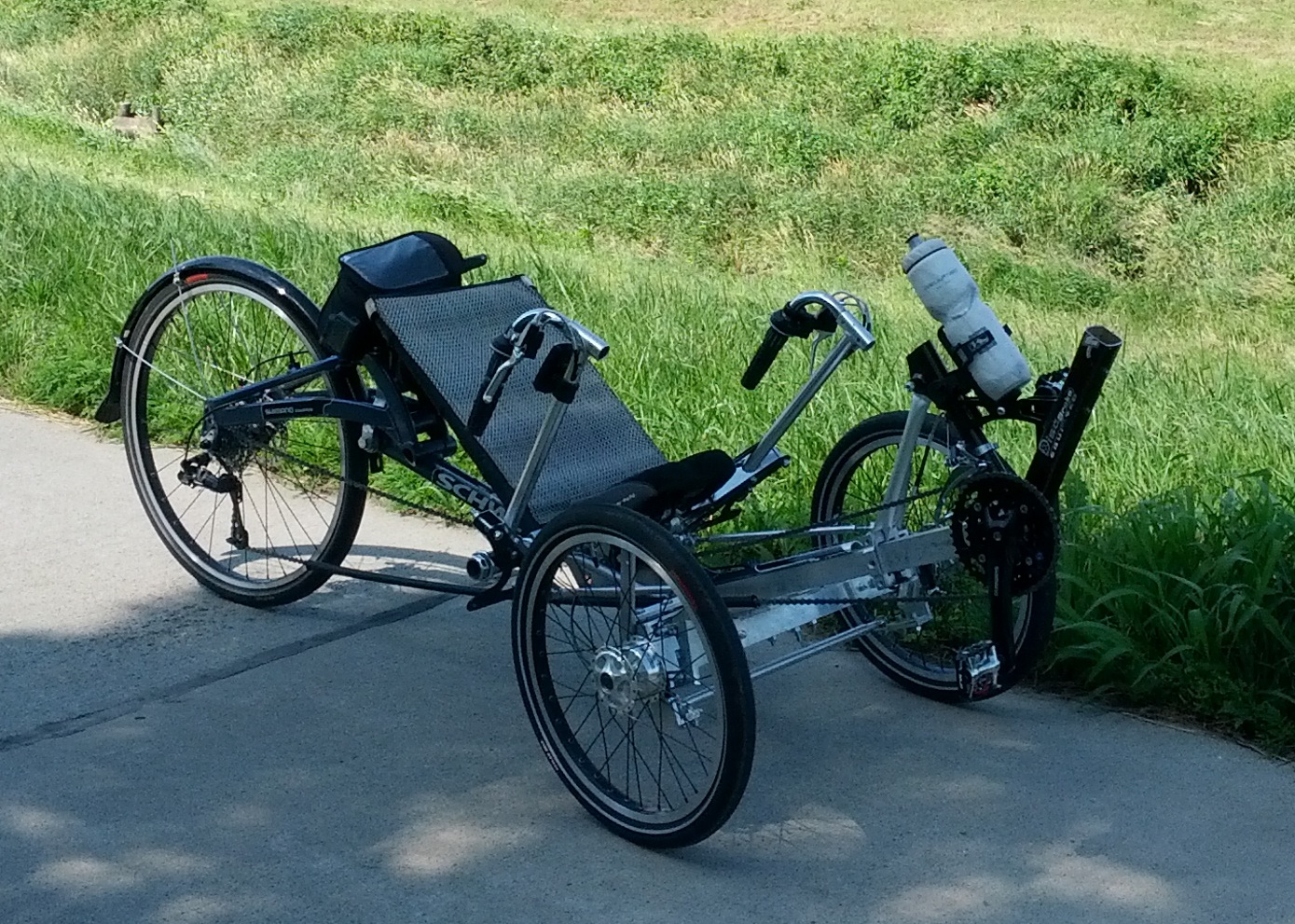 This is a completely bolt together trike with the exception of donor parts (rear end and front bottom bracket) from mountain bikes and kids Razor scooters.  Over 90% aluminum.