Last night was the first Taco Ride of the year for me and this year my son Alex joined me. Other son Aric was going to go but we could not get enough trail bikes working and he graciously offered to let Alex go this time.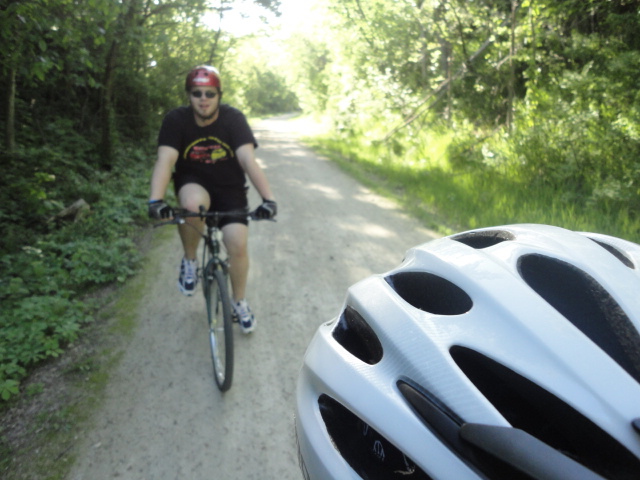 Weather was cool, but still warm enough for shorts and short sleeves. We met up with two friends from the Omaha Ski Club, Ben and Ellen and a friend of theirs for the ride. We anticipated a busy night, which it was, as the Blue House band was playing in Mineola that night outside the Mineola Steak House steakhouse.  However, we got there early enough to get immediate seating inside where we enjoyed tacos and margaritas for the adults.  Food was great and the music was great as well.
We ventured outside after dinner and enjoyed the music about 30 minutes before heading home.  It was dark by the time we got back to the parking lot in Council Bluffs (it's 10 miles each way) and we did need to put jackets on.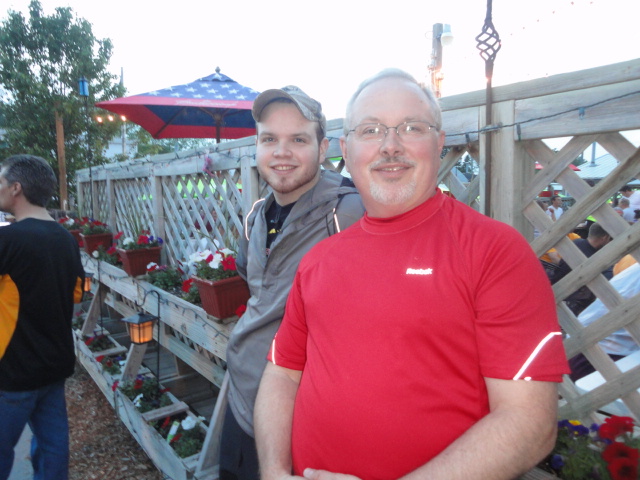 If you have never ridden on the Wabash Trace, it is a real experience, especially at night.  A reclaimed railroad line that runs a couple hundred miles, many parts of the trail are canopied by the trees, which is very picturesque but the added benefit of keeping the shaded areas cool in the summer.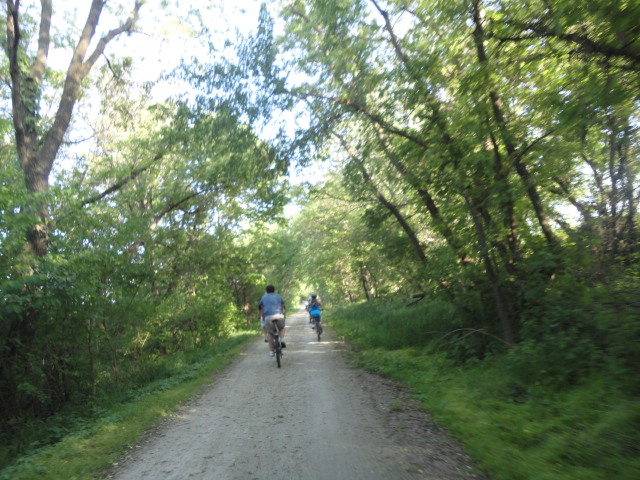 This was my first Taco Ride.  The weather was absolutely perfect, so at the urging of a friend in the Omaha Ski Club I decided to finally give it a try.  Boy, was I not disappointed.  We met at the trial head of the Wabash Trace which is just South of Lewis Central Middle school in Council Bluffs, IA and road about 6 miles to a point affecti0nately knows as Margaritaville where there were several dozen people stopped for snacks and libations.  This was a fairly steady 1 to 2% incline on the trial to this point, to Margaritaville, a climb of 233 feet.  After about 30 minutes visiting with old and new friends we road on to Mineola, just over four miles and and the grade was a steady 1 to 2% decline, which drops about 200 feet.
Mineola is a very small town, about 200 population, and the well known steakhouse, where they serve tacos and other grate food,  is overflowing with riders out on to the patios and the street.  Tonight there was a band and a street dance as well, so given the great weather and the entertainment I expect this was one of the biggest crowds of the summer.  One of our riders, Gary, was kind enough to ride in ahead of us and put in a reservation for a table, where we all shared hard and soft tacos, pitchers of margaritas and beer.   We then went out to the street and enjoyed the band and the people playing in the bubble machine.
This is quite a festive group of people, from all ages and I highly recommend it to anyone who can do a 20 mile recreation ride, which is the round trip distance.  However, I strongly recommend you have a very good headlight and a taillight as you will more than likely ride back in the dark.  The converted rails to trails path is covered by a beautiful canopy of trees and is quite dark.  However, it was also an exhilarating ride in the dark.  I can't wait to do it again!