Today I met with about 100 folks in Council Bluffs at Mall of the Bluffs to load up the trucks with our bikes and our bags on the bus.  I chose Lost and Found Adventures Charter service for three reasons, one they were local, two they were referred by an avid cyclist and three I know the owner indirectly.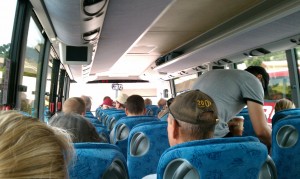 They did a wonderful job on the bus ride to Sioux City of informing us of important safety issues on the ride and many other tid bits. 
Once we arrived in Sioux City we set up our tents and socialized in the shade (80's with low humidity), then around 5:00 had a wine, fruit and wine social.  All the first timers to RAGBRAI, including me, lined up for pictures, then the corralled us together to write VIRGIN vertically on our legs (It's a ride tradition, trust me).  Needless to say, I felt much younger.  😉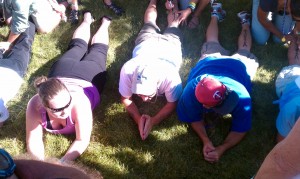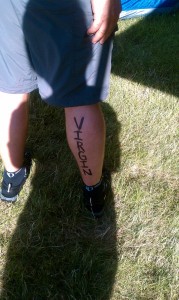 I rode my bike into Sioux City, had dinner and a beer and enjoyed a wonderful conversation with a couple from Iowa City.  Needless to say, there is always something in common with cyclists to talk about. 
Found a very nice souvenir t-shirt and headed back to the camp.  It's about 8:30 and I plan on being in my sleeping bag around 9:00 so I can get up at 4:00 to tear down my tent, load my gear in the truck, find breakfast and be on the road out of town by 6:00  am.  It always takes longer than I hope but I do think I am much better organized than I was on BRAN.  The new tent alone will make tear down much faster. 
Tomorrow's weather is a dream, low 80's and low humidity, low wind.  Perfect, perfect, perfect!!!!