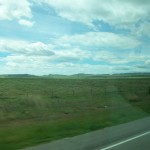 Up at 4:00 am so I could have my son Alex drop me off at the Strategic Air and Space Museum at 5:30 to load my bike in the semi and get on the bus. Raining, dark, no one directing people where to go, I'm wondering if this is how the trip is organized (but later find they are very organized – must have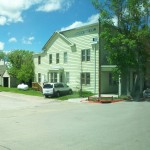 Harrison Hotel – Building at left said Water and Power Building, 1923
been the rain).
Sat next to a man who also lives in Omaha and works at PayPal, had great conversations with him and shared a foot-long sandwich at Subway when we stopped in North Platte for lunch.  Oh, skies cleared en-route and it was a beautiful day.  Clouds looked like cotton balls in the sky, so close you could touch them.  Also
beautiful country!  Nebraska is definitely not flat!!
Arrived in Harrison around 3:00, found a spot for my tent and proceed to set it up.  Took an hour as I had messed with the poles and screwed them up.  Had some too short, some too long.  No problem, it was a beautiful day and I'm not on any schedule.  Then it took another hour to set up my bike.  No problems, just took my time as there was lots to reattach.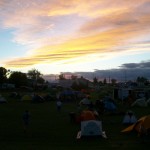 I've run in to at least a dozen people I know and have had a great time getting reacquainted.  Had a wonderful dinner in the high school gym with a guy I used to work for 18 years ago.  The high school had 4 seniors this last year (small town!), but beautiful school.  Hospitality here was wonderful.  People from the town would walk up to you and welcome you, ask if you needed anything.
No, not cereal, it's a ride close to 500 miles across the back roads of Nebraska, organized by the Norwest Omaha Rotary club and the Omaha Pedalers bicycle club as a fundraising opportunity to help others, primarily scholarships for high school students.  This year is BRAN's 30th anniversary and they are going with the space theme, given it is 2010.   They are calling it the Space Cowboy Tour.  Costumes optional. 😉
This year BRAN will start in Harrison with the following route (approximate mileage to each city in parentheses):
Alliance – Home of Carhenge (84 miles) Hyannis (59 miles) Thedford (63 miles) Burwell (85 miles) Albion (64 miles) David City (74 miles) Strategic Air and Space Museum near Ashland (56 miles)
Support vehicles will haul our gear and bikes from the Space Museum on June 5th to Harrison.  We then reassemble our bikes, set up our tents, enjoy the local fine food, attend a required meeting and head to bed ready for an early start in the morning.  Support vehicles haul our gear from town to town.  SAG vehicles will provide water, fruit and Band-Aids along the route. 
Each host community has worked with BRAN to provide camping areas either at the high schools or in city parks.  Various organizations in towns, such as churches and schools provide meals as a fundraising opportunity. 
Registered riders receive a very nicely prepared booklet with information about the towns, historical items of interest, where food will be served, rout maps and even elevation maps (Nebraska is Not Flat!). 
Be sure to read my daily blog entries on the trip for details about the unique things I find along the route and my experiences.  It should be a very interesting ride for this newbie!
BRAN, the Bike Ride Across Nebraska, is just a few days away.  In August of last year I decided I wanted to expand my horizons and participate in a supported ride over a long distance.  I signed up for BRAN and RAGBRAI (bike ride across Iowa) hoping to get accepted for at least one.  I got accepted for both!  For many these state wide trips are their annual vacation.  I frankly can't imagine that, given my longest outing was just a few days ago at 80 miles.  Doing 500 in a week ?  Oh my!
Before I signed up for these trips, I started increasing my miles last fall by 5 miles a week and eventually made it to 50 miles in one outing.  That was on a road bike and my wrists were numb and neck sore for a week.  Sure, I could do it but at what risk of damage to my body.  Carpel tunnel, chiropractic visits?  I started to research various bikes on-line and learned how recumbent bikes put the body in a more natural position, thus not hurting the body like on a road bike.  I searched ebay and craigslist  every day and finally found what I wanted at a very reasonable price.  My bike is a Burely Canto.
I rode my Burley every chance I could but a very cold, snowy, icy winter kept me off the bike all of December through March, one of our longest snow covered winters.  I got in about 200 miles in April but on 28th of that month I caught the edge of the sidewalk in the park near our home and went down, spraining my right ankle.  Up until a week ago I was still limping and feeling some pain, but this week it is much better.  So much so that I did 66 miles several days ago (with 3,000 feet of ascent) and 80 miles a few days later.  With the first day of BRAN being 84 miles, possibly 93 if new road construction begins, I felt I needed to get out there and test the limits to determine if I can really do this.