Rain during the night and rain as I tore down the tent. Up at 4:30 again with the sound of tent zippers and people loading their bags in the semi. Nine hours of sleep did wonders.
Was on the road by 6:00 AM and stopped at Taco Johns for something to eat that would shock my cardiologist.  But hey, I'm burning off 5,000-6,000 calories a day.
Ride started with a mist and cold wind, temperature about 54 degrees, 40 with windchill and even colder when y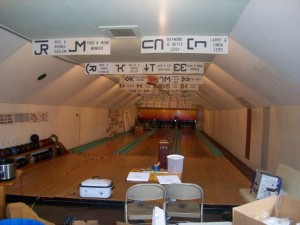 ou consider riding creates its own windchill.  More hills today.  Had lunch at a town that was like something out of the 1940's, very small town (like 10 buildings).  Lunch served at the 3 lane bowling alley.
Found out I was one of the last 15 out of over 600 riders.  But did the 58 miles and rolled into the full campground only to see people tearing down their tents.  Seems we have the potential 60 mph winds tonight as two storm cells collide. Might be sleeping in the high school tonight.  Oh joy, more rain.
The good news is I feel good and no aches or pains. Looking forward to my first shower and shave of the trip.
Day 2 update: We survived the storm with hundreds of us sleeping in the high school.  I was in the gym with a wonderful chorus of snoring all night.   Lights on at 4:00 am and breakfast ready.