Sadly I am not participating in BRAN this year.  Sorry to those of you who are here to follow my trip.  I cancelled my spot for several reasons:
My rear tire is questionable after the local The Bike Rack store incorrectly trued the tire, stressing out the spoke nipples to the point one came through the rim on a ride right afterwards.  I brought it back to them and they loosened the spokes, replaced some spokes and a couple of nipples, but who is to say if any of the remaining ones have metal fatigue.  I sure don't want to find that out on the side of a busy highway.
I'm not physically in the shape I would like to be in.  I don't want to, in a weakened state after days of riding, do something stupid and injure myself.
The weather here has been so unpredictable, riding could be dangerous.  I remember the 2010 BRAN ride we were up several night from sever storms and I was just plain exhausted from lack of sleep.
Sorry to be missing what would otherwise be a great ride, but I do have RAGBRAI to look forward to the end of July and hopefully will have my trike ready by then.
I'm way behind on my training and I'm feeling the pressure of it.  Two weeks from today is the first ride day of BRAN and I'm only at 269 miles this year, my longest ride of 43 miles on a windless day.  I'm far from being prepared for 70+ miles a day in wind, rain, storms, heat and cold.  I have to really push myself in the next two weeks.
To put it in perspective,  here's what I have done in the past for BRAN riding years:
In 2010 I did 700 miles before BRAN, 2329 for the year.
In 2011 I did 460 miles before BRAN, 1137 miles for the year.
In 2012 I only did 402 miles total for the year and no state wide rides.
If so interested you can see my monthly riding stats here.
Brutal ride today, 100 degrees and very windy.  Could barely keep bike on the trail.    But the worse part was when I came upon two vultures on the side of the trail, who then took off and circled above me.  My imagination went wild and I was thinking, what do vultures prey on?  Hmmmm, perhaps the slow, the weak, the injured, the aged and the young.  I then realized I meet over 50% of those categories!  Wonder if my pepper spray works on vultures?
Edited to add:  I was told Vultures only eat the already dead.  Still, I think they sensed I must be close to it.  😉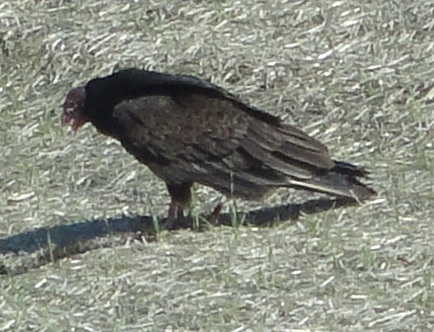 I won the lottery!  The RAGBRIA lottery.  Out of over 10,000 riders, many turned away, I got picked.  Wooohooo!
RAGBRAI is the  bike ride across Iowa, held the last full week of July.  I believe it is the oldest state wide ride of it's kind.  My only time riding it was in in 2010 and although I signed up for the last two years I had to miss for various reason.  This year I have more motivation and baring any setbacks I plan to ride and plan to ride it on the homemade aluminum recumbent trike I am building.