I passed the 4,000 mile mark since I started riding my bike back in the summer of 2009.  Wow, it sounds like an awful lot of miles, but it's like I always tell people, it's just one pedal push after another.  If I looked at the large numbers of any trip I'd probably not go, but I try to break down all my rides into mini rides.  For example on my daily rides I try to get to the next park or the next trail.  On the state wide trips I just try to go to the next SAG stop.
To put that 4,000 miles in perspective, it is the same distance as if I had ridden from Omaha to Sacramento, CA, to Seattle, WA, and back to Omaha.
(Edited June 22:  Cancelled my trip this year due to lack of training and conditioning)
I have plenty of excuses why I did not do RAGBRAI last year.  Gear problems and lack of training where high, but the biggest reason I did not go was the 100+ heat index days the first two days that included a lot more hills than I am used to.  For 2012 I am not as concerned.  Still having some shifter problems, but I'm stoked to be in my best shape ever and the elevation (climbs) for this trip are much more manageable regardless of what the temperature is.  Here's the Ragbrai route for July 2012:
Sunday, July 22 (54 miles, 1,583 feet of climb)
Start Town: Sioux Center
Pass-through Towns: Orange City, Alton, Granville, Marcus
Overnight Town: Cherokee
Monday, July 23 (62 miles, 2,062 feet of climb)
Start Town: Cherokee
Pass-through Towns: Aurelia, Hanover, Schaller, Nemaha, Sac City
Overnight Town: Lake View
Tuesday, July 24 (81 miles, 1,724 feet of climb)
Start Town: Lake View
Pass-through Towns: Auburn, Lake City, Lohrville, Farnhamville, Gowrie, Dayton, Stratford, Lehigh
Overnight Town: Webster City
Wednesday, July 25
Start Town: Webster City (77 miles, 2,018 feet of climb)
Pass-through Towns: Kamrar, Jewell, Story City, Roland, McCallsburg, Zearing, Saint Anthony, Clemons
Overnight Town: Marshalltown
Thursday, July 26 (84 miles, 3,576 feet of climb)
Start Town: Garwin
Pass-through Towns: Clutier, Garrison, Vinton, Shellsburg, Covington,
Overnight Town: Cedar Rapids
Friday, July 27 (42 miles, 2,272 feet of climb)
Start Town: Cedar Rapids
Pass-through Towns: Mount Vernon, Springville, Viola, Fairview
Overnight Town: Anamosa
Saturday, July 28 (69 miles, 2,890 feet of climb)
Start Town: Anamosa
Pass-through Towns: Hale, Oxford Junction, Lost Nation, Elwood, Delmar, Charlotte, Goose Lake
Final Destination Town: Clinton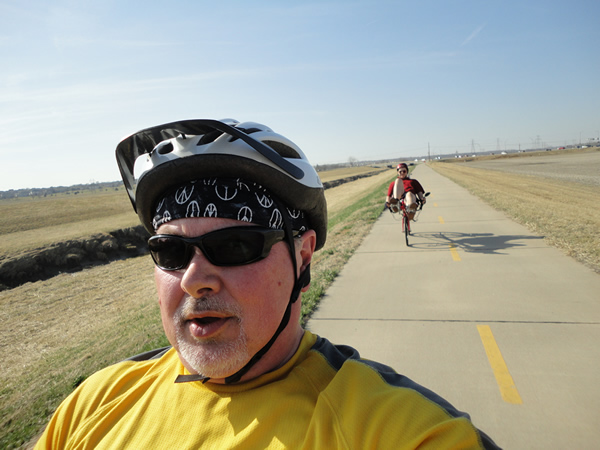 Who would have thought March 14 would be a top 10 day for riding?  It was, a wonderful 74 degrees with a 5 mph wind.  Went out with my son Aric (also a recumbent rider) and did 27 miles down the Big Papio trail here in Omaha.   Two days in a row of 27 miles each, I could feel it today.  Icing up the knee as I write this.  But all in all it was a great ride and fun with my son.  Rode 27 miles yesterday with my other son Alex.  These two, age 17 and 20, are going to get me into shape quicker than if I did it on my own.
Taking a break tomorrow.  Weather will be perfect, but it's my birthday and getting together with my mom, my wife and all four kids.  Those opportunities will become rare soon enough, so enjoying them while I can.  Gotta give that knee a rest anyway, right?