2023 (Total so far 566 miles this year, 566 on tandem, 15,813 since starting in 2009)
July – 290 (290 on tandem, 205 on RAGBRAI)
June – 143 (143 on tandem)
May – 133 (133 on tandem)
2022 (Total so far 346 miles this year, 346 on tandem, 15,247 since starting in 2009)
Oct – 64 (65 on tandem)
Sept – 43 (43 on tandem)
August – 99 (99 on tandem)
July – 18 (18 on tandem)
June – 57 (57 on tandem)
May – 54 (54 on tandem)
April – 11 (11 on tandem)
2021 (Total so far 757 miles this year, 717 on tandem, 14,761 since starting in 2009)
November – 11 (11 on tandem)
October – 54 (54 on tandem)
September – 34 (34 on tandem)
August – 78 (33 on tandem)
July – 165 (165 on tandem)
June – 265 (265 on tandem)
May – 23 (23 on tandem)
June – 127 (127 on tandem)
2020 (Total so far 531 miles this year, 372 on tandem,  14,104 since starting in 2009)
November – 15
October – 15 (15 on the tandem)
August – 100 (100 on tandem)
July – 144 (101 on tandem)
June – 49 (49 on tandem)
May – 84 (53 on tandem)
April – 101 (64 on tandem)
Feb – 23
2019 (Total so far  1411 miles this year, 13,573 since starting in 2009)
November – 41
September – 130
August – 89
July – 570 (passed the 13,000 mile mark)
June – 136
May – 96
April – 118
March – 25
January – 40
2018 (Total so far  1378 miles this year,  12,372 since starting in 2009)
December – 52
November – 50
October – 41
September – 226
August – 407 (passed the 12,000 mile mark)
July – 537
June – 57
May – 38
April – 20 (passed the 11,000 mile mark)
2017 (Total so far 926 miles this year, 10,994 since starting in 2009)
September – 197
July – 321
June – 171 miles (15 miles not on Garmin)
May – 57 miles
April – 36 miles
March – 26 miles
February – 18 miles
2016 (Total so far 1625 miles this year, 10,166 since starting in 2009)
November – 18 miles
September – 68 miles
August – 14 miles
July – 422 miles (Passed the 10,000 mile mark this month!!!)
June – 434 miles (new chain & cassette on TerraTrike)
May – 263 miles
April – 189 miles
March – 193 miles (Passed the 9000 mile mark this month)
February – 25 miles (rare 73 degree day)
2015 (Total of 1185 miles this year, 8542 since starting in 2009)
October – 9 miles
September – 13 miles
August – 5 miles
July – 216 miles
June – 338 miles
May – 302 miles
April – 135 miles
March – 141 miles (Passed the 8000 mile mark this month)
January – 26 miles
2014 (Total of 1868 miles this year, 7357 since starting in 2009)
November – 35 miles
October – 101 miles
September – 26 miles
August – 126 miles
July – 605 miles (Passed the 7000 mile mark on July 25th while on RAGBRAI)
June – 473 miles (Passed the 6000 mile mark on June 5th, did Tour de Nebraska and NUMB Ride)
May – 296 miles
April -181 miles (training has officially begun)
March – 15 miles
January – 10 miles (rare 60 degree day on Jan. 19 – had to try out the new trike)
2013 (Total of 1156 miles this year, 5489 since 2009)
September – 50 Miles
August – 87 Miles
July – 452 Miles  – Passed the 5000 mile mark this month
June -232 Miles  (6/7 was 53 miles with 1176 feet of climb that day) (first ride of trike on 6/29, 22 miles)
May – 271 Miles
April – 76 Miles
March – 11 Miles
2012 (Total of 402 Miles This Year, 4310 Since 2009)
September – 33 Miles
May – 105 Miles
April – 75 Miles
March – 189 Miles (passed the 4,000 mile mark since starting riding)
2011 (Total of 1147 Miles This Year, 3908 Since 2009)
Sept – 26 Miles
Aug – 23 Miles
July – 77 Miles
June – 550 Miles
May – 412 Miles (passed the 3,000 mile mark since starting riding)
April – 59 Miles
2010 (Total of 2329 Miles This Year, 2871 Since 2009)
October – 42 Miles
September – 91 Miles
August – 163 Miles
July – 774 Miles (passed the 2,000 mile mark since starting riding)
June – 551 Miles
May – 417 Miles (passed the 1,000 mile mark since starting riding)
April – 206 Miles
March – 85 Miles
2009 (Total of 432 Miles)
November – 80 Miles
October – 37 Miles
September – 248 Miles
August – 67 Miles
(These are actual road or trail miles, not on the bike trainer)

Sometime in the last few weeks I passed the 5000 mile mark with my recumbent bike.  I started recording my stats shortly after buying my used Burley recumbent and I know my recordings hit 5000 this weekend, but the exact date and mile was sometime previous.
Wow, who would have thought this adventure would lead me this far?  Certainly not me, that's for sure.  But it has been a joyous ride, full of visual delights, some hardships, some pain, but the new friends I've met along the way make up for all the hardships.  Below is a picture of me on my Burely with my most dedicated riding buddy (a troll nicknamed Ziggy Stardust – Google it if you are under 50 years old and don't get the reference).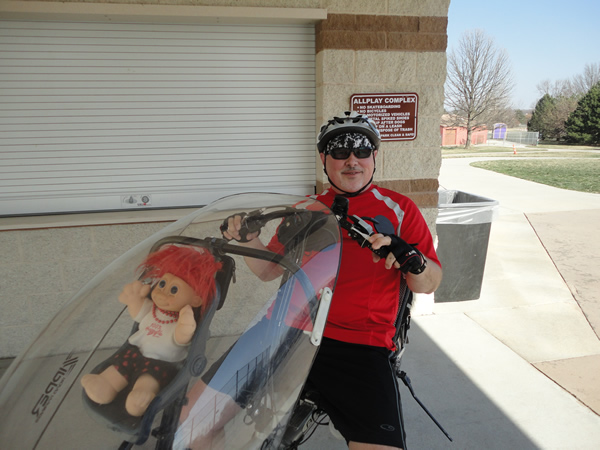 The journey also continues in many other ways.  In the last six months I built the first completed prototype of a recumbent tadpole trike.  I say "first" and "completed" as there were several iterations of it before it got to this point and now that it is almost done, I'm ready to design another one from what I learned on the first.  To coin a phrase from Lance Armstrong (who will be on RAGBRAI this year), it's not about the ride.  For me, with the trike, it's all about the experience, the journey of building it long before I rode it out of the driveway.  I have never had a project like this where I lived and breathed it day after day and so proud of my accomplishment.  I wish my dad was still alive to see it, he really would have appreciated the intricacy of the design and the dedication it took to design and finish it.  Below is an almost finished picture of it, when I took it out on it's maiden voyage last week.  After RAGBRAI, when I have more time to finish it, I'll post more pictures of the trike so you can see all the details.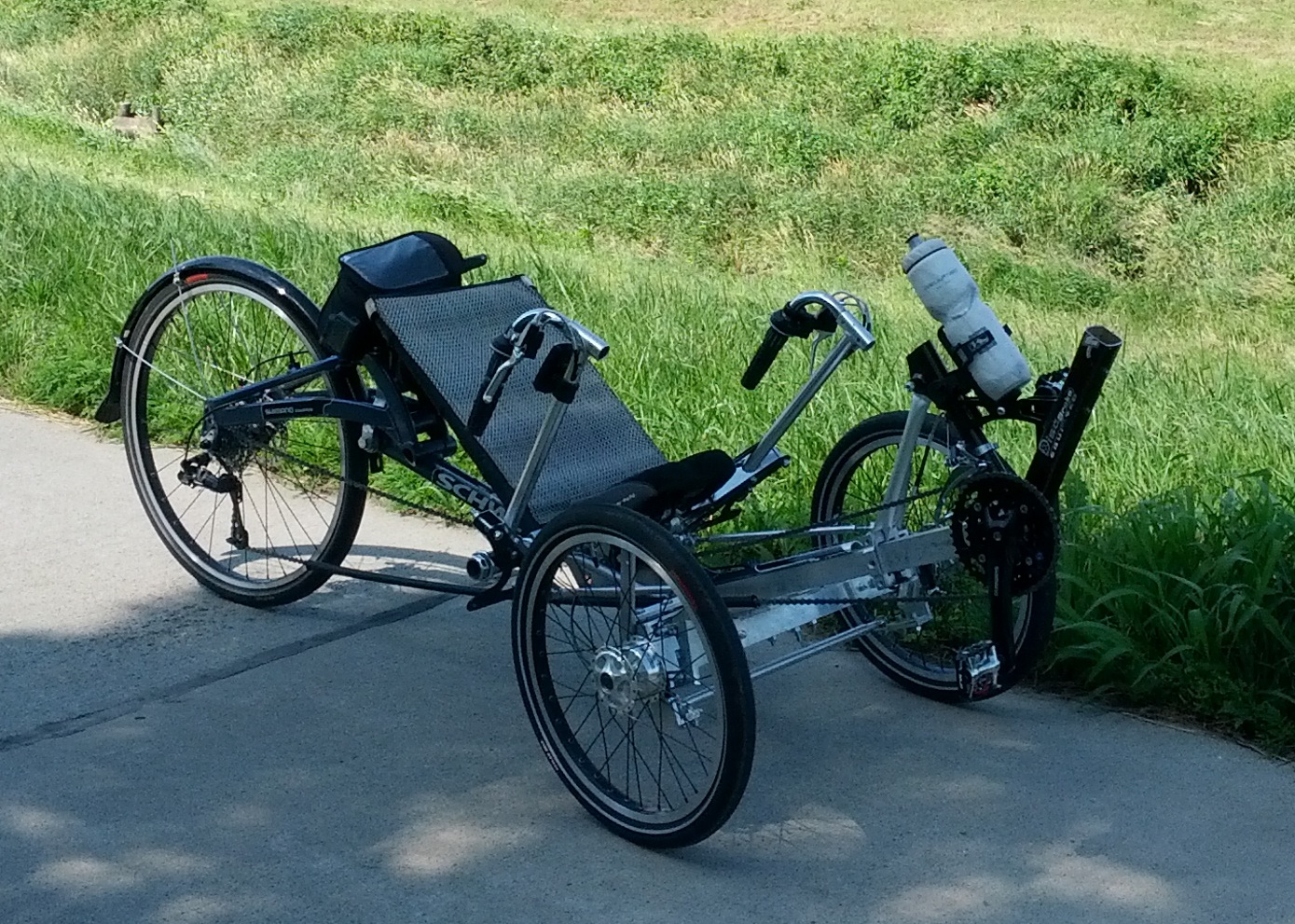 This is a completely bolt together trike with the exception of donor parts (rear end and front bottom bracket) from mountain bikes and kids Razor scooters.  Over 90% aluminum.
I passed the 4,000 mile mark since I started riding my bike back in the summer of 2009.  Wow, it sounds like an awful lot of miles, but it's like I always tell people, it's just one pedal push after another.  If I looked at the large numbers of any trip I'd probably not go, but I try to break down all my rides into mini rides.  For example on my daily rides I try to get to the next park or the next trail.  On the state wide trips I just try to go to the next SAG stop.
To put that 4,000 miles in perspective, it is the same distance as if I had ridden from Omaha to Sacramento, CA, to Seattle, WA, and back to Omaha.