Bike all torn down and ready for box
I refer to this as Day Zero as it not a ride day but the day we all put our bikes on the semi trailer and are shuttled by passenger bus to the starting point.  here are som pictures getting the bike ready.
Those of us taking the bus are meeting in Waterloo, NE, at 7:00 in the morning to get our bikes loaded on semi-trailer. Last year I designed my own box by taping two bike boxes together. This year I got lucky and the Bike Rack had an empty tandem box they offered me. This saved me a couple hours of work and is much more sturdy than my box last year.
This year the ride is starting in Brady, Nebraska, population of about 370 people.  We will essentially triple the town's population when we arrive.
Brad is on Highway 30 which traverses a major portion of the middle of the state.  I've actually been to Brady once before, a few years ago on the way to my grandmothers funeral, and I remember it well as I stopped in Brady asking locals if they had seen a 1960 era vintage VW singlecab truck that a trucker said he had seen on the edge of town a few months earlier.  No one knew of it, but the cashier at the local store said there was an old junkyard on Hwy 30 between Brady and Maxwell.  Off we went, found the salvage yard and sure enough there were a couple of early 1960 VW buses.  I even found a picture from our visit.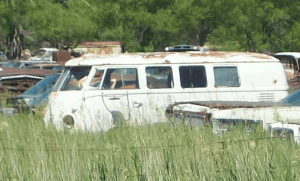 Back during that visit I went to the door of the house and knocked on the door.  A very elderly man answered and I could tell he was not pleased to have company.   I explained my interest in the buses and he told me it was his birthday and he did not have time to talk.  I was able to get his phone number but he told me I better not wait long, he was 90 years old and might not be around much longer.  Long story short, it was a very memorable experience.  My boys and my mom took that route for something scenic, something different and we made a game of searching for old VW's.  We discovered nearly 20 on that trip.
Back to the present, arriving in Brady we gather our bags and look for a good site to camp for the night. Lessons learned form last year are DON'T camp near the portapotties or the door to the schools (slamming and creaking all night long). Also, don't camp under a streetlight. What I found best for me is to camp near the semi-trailer. About 4:00 in the morning you can hear riders clomping up and down the ramp to put their gear away and it is a great way to make sure I wake up in the morning. Even with earplugs I hear them clomping!
Once I picked my site  and put up my tent I went and grabbed my bike box and put the bike together. I was careful to mark where everything was so everything is properly adjusted. Don't want to spend my first day making numerous stops to adjust seat and steering positions.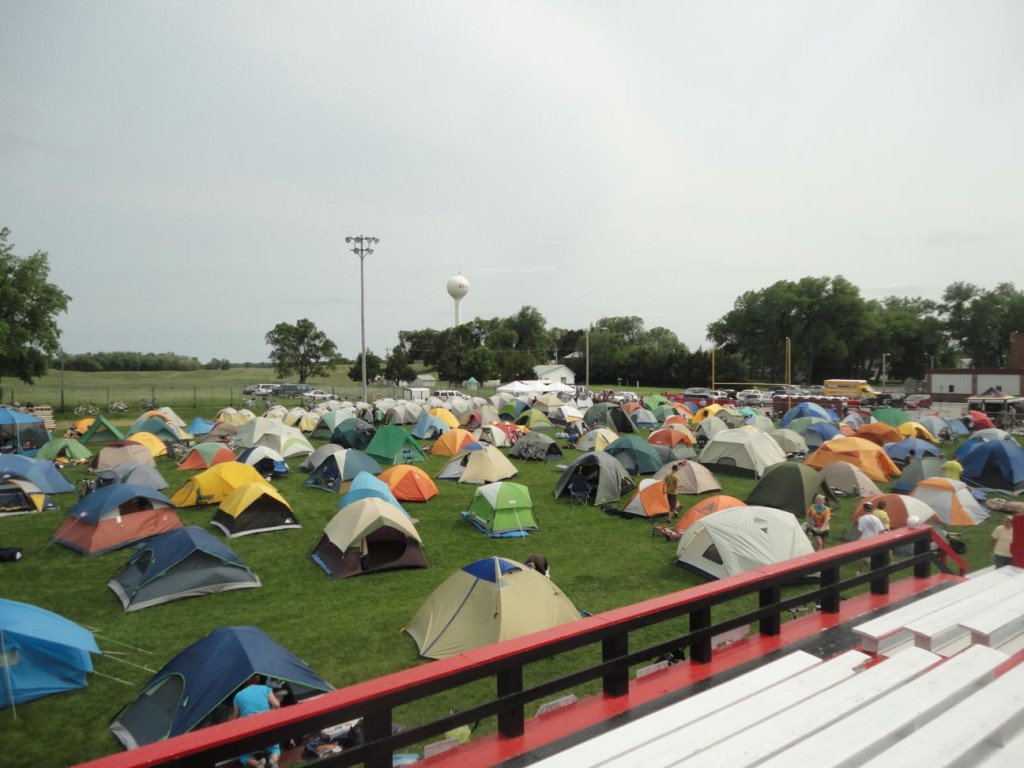 Still early in the afternoon I decided to ride towards Maxwell on Hwy 30 to find the old junkyard I spoke about.  Larry W, who is married to someone I know and I met on this ride, told me he knew of this junkyard, the owner had died and everything was up for acution (small world he even knew this).  Sure enough, when I got there all the cars were in order and a sign stating all was up for auction on July 11.  Maybe 100 cars, including three VW bugs, two split window buses and one fastback (picture below).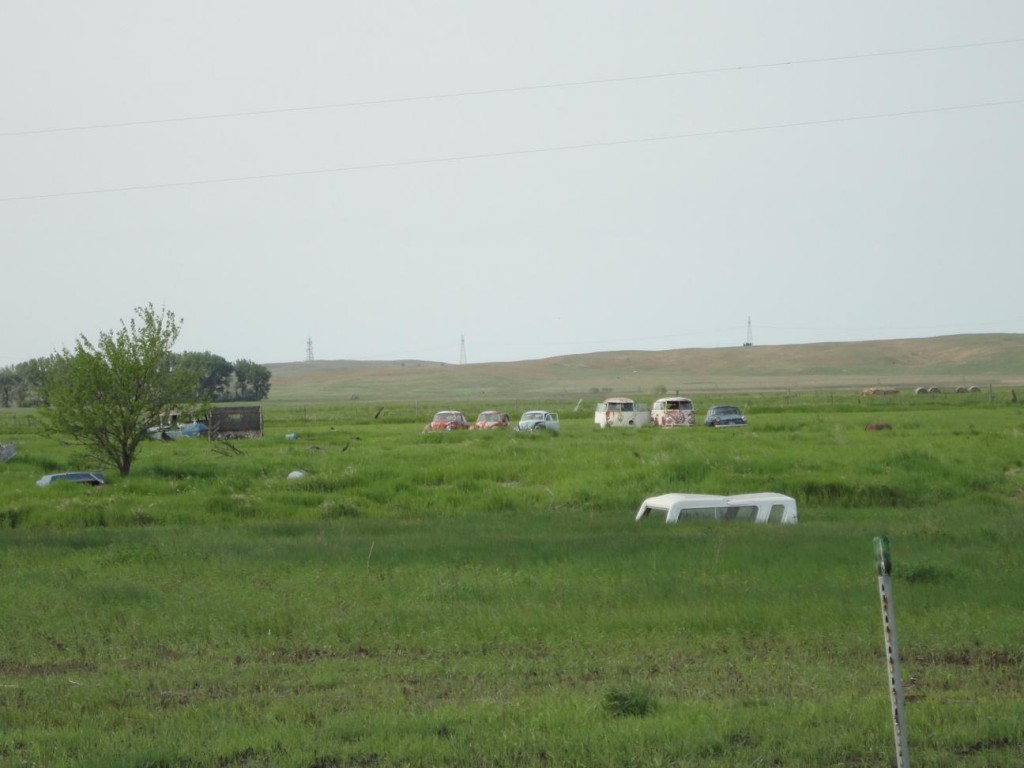 Ride was much further than I remembered and ended up doing 18 miles round trip.  Got back at 6:00, had a huge plate of spaghetti with a salad.  Around 7:30 pm we gather at the high school cafeteria for a group meeting where they go over the weeks route and other important details. After 30 years, it's a very well organized ride.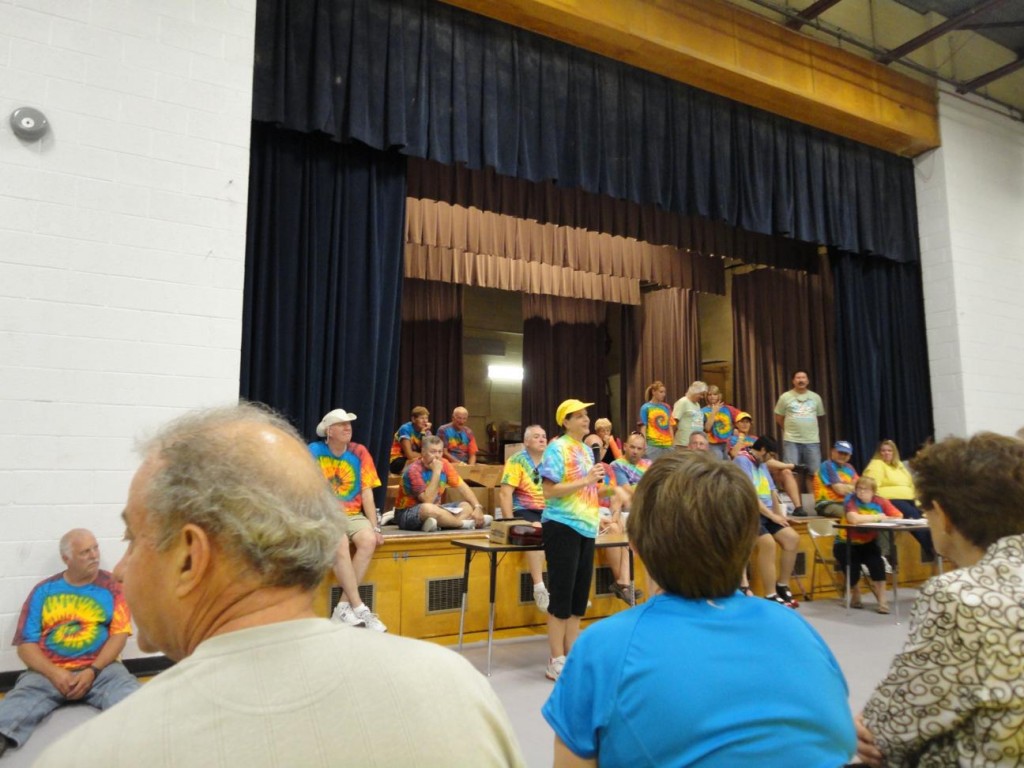 Can't wait until tomorrow and see what new adventure awaits me.  But look at the elevation chart they posted.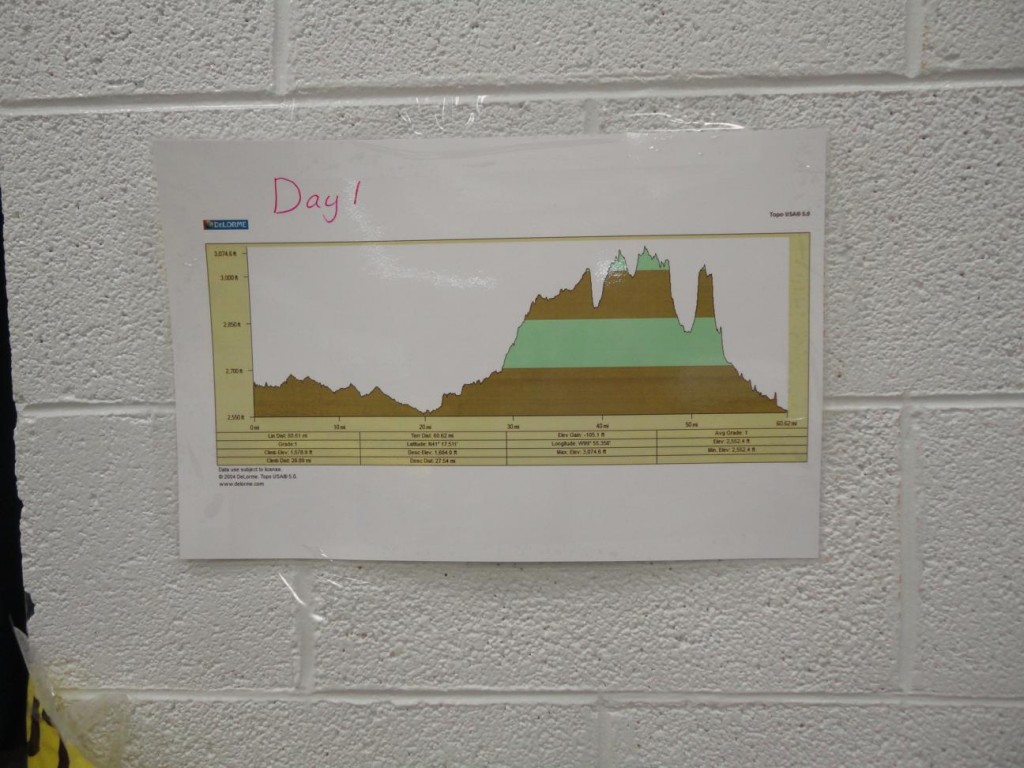 Barring bad phone reception, I should be posting my daily blog each night and promise to do more pictures this year. Please leave comments as I love to hear from all of you during the ride (but may not always be able to respond right away).