Yep, we heard of a recumbent bike over in Griswold, Iowa, that was in need of a good home and on April 2 my son Aric and I drove our 1972 VW camper bus over to pick it up.  This recumbent, under the loving care of Duane, was quite different from other other adoptee, my Burley Canto.  The steering is under the seat and the rider position is much more laid back.  I enjoyed the drive over and back, as it was one of the first nice Saturdays of the year and a chance to get my vintage VW another adoptee) out for a country drive.  Additionally, half of the 50 mile drive is on the same highway as a stretch of RAGBRAI which I will be participating in this July.
We could not even wait to get the bike home to embrace it and let it know it was loved.  We stopped at a parking lot and took turns developing the bonds that only a recumbent rider can nurture.  It was splendid!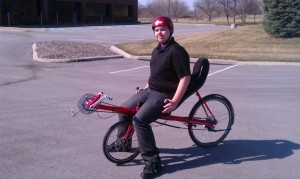 My son Aric was anxious to try the bike on the local trails so grabbed my bike and did about seven miles.  A great first ride and he did better than I probably would have with that unique steering method.